This backgrounder is part of a larger study on the role and impact of Local, Hybrid or Sub-state Security Forces (LHSFs) in Iraq. The research surveyed the role played by different local or sub-state groups across three governorates, Ninewa, Salah ad-Din, and Kirkuk, and the impact for local communities and national political dynamics. A range of LHSFs appeared in the 11 areas where field research was conducted. This reference guide provides a summary of the key attributes and important background information about the most significant LHSFs, as well as some of the smaller LHSFs that appeared in particular areas of the field research. Each of these LHSFs has slightly different relationships with the two main governance actors – the Baghdad-controlled Iraq government and the Kurdistan Regional Government (KRG) – and with local communities in areas where they are active. To help reflect these divisions, this reference guide has been organized into three subsections:
Popular Mobilization Forces (

PMF

) – This umbrella group reporting to the Iraqi government in Baghdad was created in mid-

2014

to organize the popular mobilization of pre-existing and new militia groups and forces into the fight against

ISIL

. Although the most prominent groups are Shi'a forces from southern Iraq, the

PMF

includes sizeable Sunni forces, and a range of minority forces drawn from different areas.
Kurdish Security Forces (

KSF

) – The majority of forces belonging to the Kurdistan Regional Government (

KRG

) are controlled by either the Kurdish Democratic Party, the Patriotic Union of Kurdistan, or belong to one of the mixed brigades under the Ministry of Peshmerga Affairs. However, there are also a range of local forces, many drawn from minority communities in liberated areas that act as subsidiary or affiliated forces to different

KSF

.
Kurdistan Workers' Party (

PKK

)-affiliated groups – Although forces affiliated with the

PKK

did not feature strongly in the field research, they are an important part of the

LHSF

landscape in Iraq and are distinct from either

PMF

or

KSF

.

PKK

forces also have a number of local affiliates in liberated areas, many drawn from minority communities in the areas examined in the research.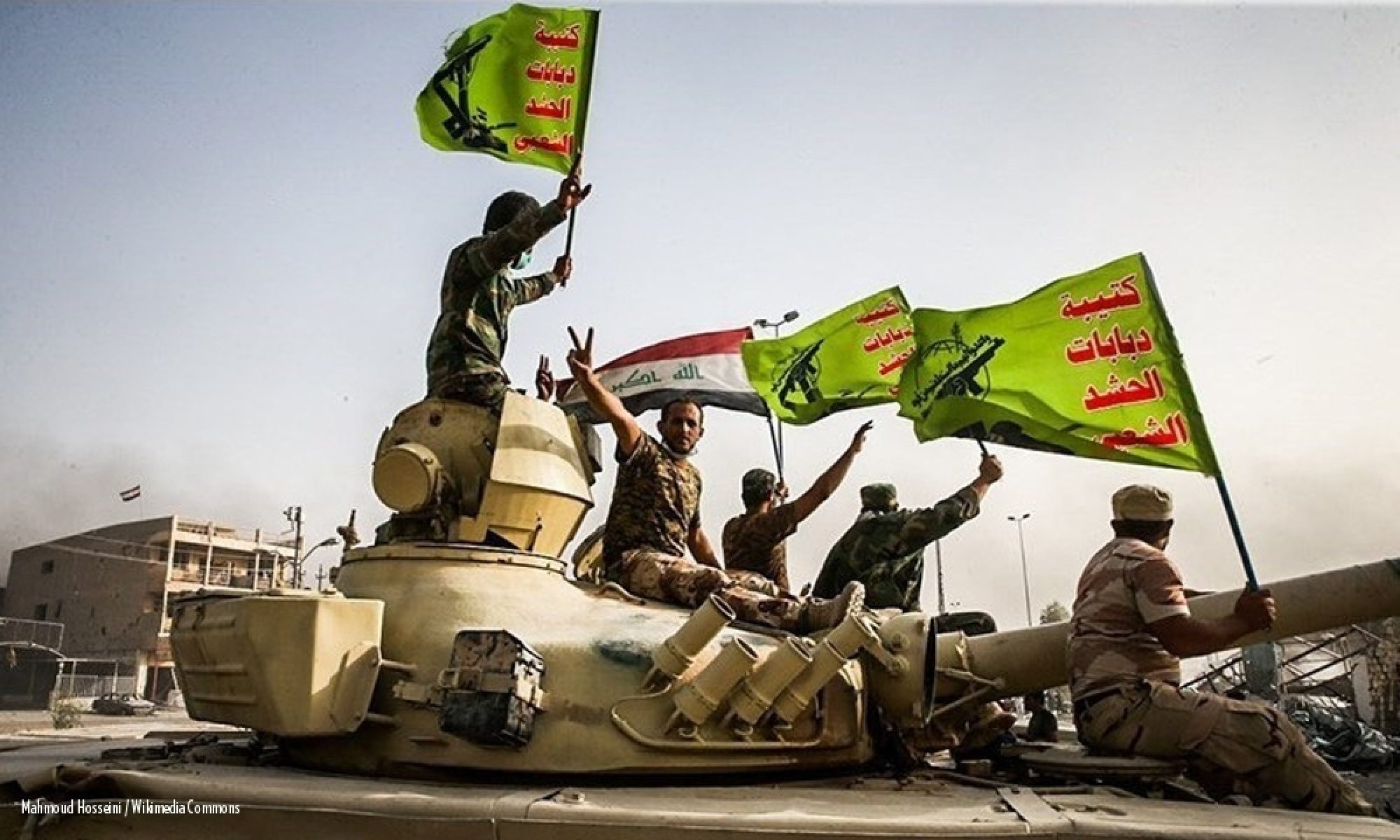 Popular Mobilization Forces (
PMF

)

Following the fall of Mosul and ISIL's rapid expansion across northern Iraq, in June 2014, Iraq's most important cleric, Grand Ayatollah Ali al-Sistani issued a fatwa that acted as a call to arms and prompted a mass mobilization effort, collectively described as the Popular Mobilization Force (PMF), also known by the Arabic term al-Hashd al-Shaabi. The PMF were organized under the Prime Minister's office, and granted some quasi-governmental status and government salaries. As of February 2016, 120,000 PMF salaries were on budget, although it is difficult to know how closely that number approximates actual fighting forces, potentially as few as 60,000.1 Then in November 2016, Parliament passed a law legalizing PMF, granting them equivalent ranks, benefits, and subject to the same military jurisdiction as ISF.

The PMF comprises a minimum of 50 subgroups, although new groups emerge periodically in the ongoing conflict. Some of these groups have been longstanding since the 1980s, while others formed more recently in response to the threat from ISIL following the fatwa by Al-Sistani.2 The Popular Mobilization Commission, led by National Security Advisor Falih al-Fayyadh,3 reports to the prime minister's office. However, the largest and most long-standing Shi'a PMF groups are more responsive to their own militia leaders, and some more directly responsive to Iran than to Iraqi leaders.

Most PMF forces draw predominantly from Shi'a populations in southern Iraq, but since 2014 sizeable Sunni forces have also been incorporated into the PMF umbrella, particularly once the PMF was legalized in 2016 as the only legitimate route for having a non-state or substate armed force. The most significant mobilization effort was a partially US-sponsored initiative known as the Tribal Mobilization Force (TMF) in Anbar and Ninewa that sought to recruit tribal forces to play a role as local ​"hold" forces in their areas once liberated from ISIL. Shi'a Turkmen, Shabak, Christian and Yezidi forces have also been gradually mobilized from across the liberated areas, and now form units within the PMF. Many are directly recruited or affiliated with larger Shi'a PMF operating in their local areas.

This charts below summarize some of these different PMF forces, focusing in particular on those that were prominent in the field research. This section will be organized based on different affiliations or dynamics among these different PMF forces: 1) the larger Shi'a PMF that receive substantial support and are affiliated with Iran; 2) other Shi'a PMF who have a different position and relationship with both the Iran and Iraq governments; 3) Sunni PMF; 4) Other minority forces within the PMF.
Iran-affiliated Shi'a
PMF
Many of the largest and most influential forces within the PMF are heavily influenced (and some controlled directly) by Iran. These include the Badr Organization, the League of the Righteous (Asa'ib Ahl al-Haqq), Hezbollah Brigades (Kata'ib Hizb-Allah), and the Khorasani Brigades. These militias are the best organized, best equipped and paid (with reports that Iran supports their salaries as well as equipment), and play a leadership role among other groups within the PMF. The leader of Badr Organization Hadi al-Amiri and the leader of the Hezbollah Brigades Abu Mahdi al-Muhandis significantly direct inter-PMF cooperation. Although there is imperfect command and control in the PMF and no direct linear responsibility, they are de facto responsible for much of the tactical and political decision-making of the PMF, and may direct operations for multiple PMF groups, including outside of their own groups.
Badr Organization (Munazzama Badr; al-Jinah al-Askari)

4
Formed: 1983

Active: Yes

Strength: Around 20,000 as of February 20165

Leader: Hadi al-Amiri

Link to political party: Badr Organization
Longest-standing and largest

PMF

, formed by Iraqi exiles in Iran during the

1980

s (as the ​

"

Badr Brigades")

6

Developed active political arm after the

2003

US

invasion, and integrated into Iraqi government structures, despite still significant ties to Iran
Have

22

seats in Iraq's parliament;

7

Badr member Mohammed Ghabban held the key post of minister of interior (federal police, intelligence) until resigning in June

2016

.

7

Since January

2017

, Qasim Mohammad Jalal al-Araji, a senior Badr member, has been minister of interior.

9

Hadi al-Amiri, the leader of Badr, served as Transportation Minister from

2011

 – 

2014

.

10

Famous military success in early victory over

ISIL

in Jurf al-Sakhar (Babel governorate), and Amerli (Tuz district) in

2014

Reputation generally better in terms of conduct than Asa'ib Ahl al-Haq, Hezbollah Brigades, or the Khorasani Brigades; however, there have been serious allegations or rights abuses in some operations, particularly regarding unlawful detentions and poor treatment and abuse of detainees

11

Has a large Turkmen force in southern Kirkuk and southern Tuz (see below)

League of the Righteous (Asa'ib Ahl al-Haqq)
Formed: 2006

Active: Yes

Strength: 5,000−10,000 as of March 2015

Leader: Qais al-Khazali

Link to political party: Al-Sadiqun
Splinter group from the Mehdi Army (officially disbanded in

2008

), with alleged close ties to former

PM

Nouri al-Maliki and seen as the special operations unit of the

PMF

12

Allegedly has received as much as $

1

.

5

-$

2

M a month from Iran

13

Several current or former commanders designated by

US

as global terrorists for attacks on

US

forces from

2006

 – 

2009

14

Refused to participate in Tikrit operation in opposition to

US

involvement (but after

US

insisted that it be withdrawn because of terrorist links)
Alleged

HR

violations in several operations (summary executions, kidnapping, arbitrary detention, torture, looting, mass destruction of houses); for example, in Tuz district, Muqdadiya (in Diyala), and Tikrit

15

Had a tiny locally based Sunni Arab contingent in al-Alam, Tikrit,

16

where

HRW

later alleged destruction by Sunni forces
Reportedly receives additional income from criminal activities

17

Hezbollah Brigades (Kata'ib Hezbollah)

18
Formed: 2007
Active: Yes
Strength: Around 20,000 as of February 201619
Leader: Jamal Jaafar Mohammed (aka Abu Mahdi al-Muhandis)
Strongly supported via Iranian Revolutionary Guards and Lebanese Hezbollah for training and advice
Only

PMF

listed as a terrorist group by the

US

(since

2009

), with the leader designated as global terrorist (since

2009

)

20

Formed the Harakat al-Nujaba (

HN

) in Syria in

2013

. Leader of

HN

publicly stated he would support Iran's efforts to overthrow the Iraqi government

21

Leader of Hezbollah Brigades, Abu Mahdi al-Muhandis, is also the vice president of the

PMF

committee and its head of operations

22

Alleged

HR

violations in several operations (summary executions, kidnapping, arbitrary detention, torture, looting, mass destruction of houses) – for example, in Tuz district, Muqdadiya (in Diyala), and Tikrit.

23

Abuses are also alleged to be highly sectarian, particularly against Sunnis

24

Imam Ali Brigades (Kata'ib al-Imam Ali)

25
Formed: 2014
Active: Yes
Strength: n/​a
Leader: Shibl al-Zaydi
Link to political party: Harakat al-Iraq al-Islamiyah
New, well-trained and equipped Iranian proxy militia with close links to Hezbollah Brigades and Iran's Quds Force
Abu Azrael, a commander, is a famous fighter that made waves in the media;

26

he was also praised by Sistani's office
Alleged

HR

violations, including beheading and burning of prisoners

27

Trained two Christian units called Kata'ib Rouh Allah Issa Ibn Miriam Brigades and Babylon, as well as a Yazidi group, the Sinjar brigade

28




Khorasani Brigades (Saraya al-Khorasani)
Strength: 3,000 as of February 2015
Formed: 2013
Active: Yes
Strength: 3,000 as of February 201529
Leader: Shibl al-Zaydi
Link to political party: Harakat al-Iraq al-Islamiyah
Founded by an Iranian Arab commander with the

IRGC

's logo and named after the alias of Supreme Leader Ayatollah Khamenei, this militia is the closest among the PMFs to Iran
Allegedly, Iran sends all its training and logistical aid for all its

PMF

proxies through the Khorasani Brigades, whose logistics center is in Qadir Kerem (Suleimani governorate) on the road between Tuz Khurmatu and Iran

30

Alleged

HR

violations in Tuz district and Diyala. Reports indicate forces targeted and killed Sunni residents, and took competing Peshmerga forces hostage

31

Commander, Sayid Hamid Aljazairy, explicitly stated intentions to establish a political party to further engage in Iraqi politics (a possible violation of Iraqi law that prevents PMFs from engaging in political activity, but one that has not been enforced)

32




Other Prominent Shi'a
PMF
There are also a number of other prominent, predominantly Shi'a groups that fall under the PMF umbrella but must be distinguished from the above groups because they have a different relationship with the Iraqi (and Iranian) state, and they have a degree of independence from the other Shi'a PMFs and prominent PMF figures like al-Amiri and al-Muhandis (and some openly reject this leadership or oppose these other PMF groups). These range from militias that openly claim they do not accept orders from Iran or Iraq (most prominently the Peace Brigades) and militias more closely linked in with ISF leadership and command. This category of Shi'a PMF is also different because most commentators assume that these forces would be more willing or ready to demobilize once the ISIL threat is extinguished than those more closely linked to Iran.
Peace Brigades (Saraya as-Salam)
Formed: 2014 (but formerly known as Mahdi Army, 2003 – 2013)
Active: Yes
Strength: 14,000 as of July 2016 (but only 3,000 are registered under PMF salary)33
Leader: Moqtada al-Sadr (but military commander is Sayyid Riyad)
Link to political party: Sadrist trend, al-Ahrar bloc
Strongly nationalist, populist movement that opposes Iranian influence in Iraqi politics and opposes Iranian interpretation of Wilayat al-Faqih
Spun off from Muqtada al-Sadr's Shi'a insurgent force, the Mahdi Army; in their past iteration as Mahdi Army, members opposed American forces, and were accused of targeting American soldiers prior to withdrawal in

2011

34

Restarted in

2014

under the new name Saraya as-Salam, with the more aggressive Special Forces units of the Mahdi army forming their own group, the League of the Righteous (discussed above)
Important military achievement was stopping

ISIL

's advance on Samarra in

2014

, and still responsible for holding Samarra
Supports the integration of militias into the state and contests control by

PMF

leadership
Opposed by Badr Organization, with whom they have had violent clashes
Hakim al-Zamili (al-Ahrar) is head of parliamentary committee on security and defense
Little information about their human rights record, but their operations were temporarily frozen in February

2015

after allegations of mass destruction of houses in Amerli. They have also been accused of abuses against Sunnis and of overseeing death squads

35

Abbas Combat Division
Formed: 2014
Strength: 7,000
Leader: Sheikh Maytham Rahi
Link to political party: None
Pro-government force created by Sistani to protect Shiite shrines;

36

formally tied to the Abbas shrine in Kerbala
Perceived as a neutral actor: important role in mediation between Kurds and Turkmens in Tuz district; only Shi'a Arab force in Kirkuk
Despite Shi'ite orientation, a sizeable amount of Sunni members

37

Receive most weaponry and training from the Iraqi army and have remained loyal despite Iran's attempts to influence the organization

38




Ali al-Akbar Brigade
Formed: 2014
Strength: 5,000
Leader: Sheikh Abdul Mahdi al- Karbalai
Link to political party: None
Created through a fatwa issued by Sistani to protect Shiite shrines
Strong ties to the Iraqi army, and often operating alongside them
Reportedly higher inclusion of Sunni members, as high as

20

% by one estimate

39




Sunni
PMF

Groups

Mobilization of Sunni forces under the PMF was much slower than with Shi'a forces, in part due to past marginalization of Sunni actors from security forces and governance positions, and the disbandment of the Sunni Awakening groups in prior years. With the formalization of PMF as part of the legal security forces in November 2016, other Sunni forces that had been mobilized, and remained somewhat independent from the leadership of the Shi'a‑dominated PMF, were formally swept under the larger PMF umbrella. Locals tend to nonetheless still make a distinction between the larger hashd forces and the so-called hashd al-ashair, or tribal forces. Rather than following national mobilization patterns, most tribal forces tend to be locally mobilized, and operate locally, with significant differences in mobilization patterns across governorates, and even across different cities or subdistricts within the same governorate. They often are strongly identified with their particular Sunni leader (as with former governor Nujaifi's forces), or with the larger forces they affiliate with. While some are more loyal to and take orders directly from Iraqi forces and local authorities, others strongly affiliate with and respond to orders from larger Shi'a PMF (a strong pattern among Sunni forces in Salah ad-Din). This can vary on a per unit basis, though, making it difficult to create large categorizations of the nature of these forces.
Hashd al-Ashair (including Tribal Mobilization Forces)
Formed: 2015
Active: Yes
Strength: As of May 2017, 16,000 in Anbar;40 18,000 in Ninewa;41 2,000−3,000 n Salah ad-Din (real fighting forces might be much lower)
Leader: Various
Link to political party: Non-aligned, but often have individual political backers for specific units
Collective term for tribal Sunni forces who were popularly mobilized and integrated into the

PMF

; generally they receive salaries ($

500

/​month) through the Iraqi government, as with other

PMF

In Anbar and Ninewa, Sunni forces were mobilized through US-supported Tribal mobilization Force (

TMF

) initiative
US-provided light weapons and equipment, and Coalition-led training given to

TMF

forces; of

18

,

000

authorized forces in Ninewa,

6000

had received training by May

2017

In

TMF

areas, Sunni forces tend to work alongside local authorities, police, and Federal Police; in other governorates, tribal forces tend to link with larger Shi'a

PMF

forces (see our report on Sunni Tribal Forces)
Most

TMF

units are limited to

100

 – 

200

men with largest estimated at just over

600

; other forces unaffiliated with the

TMF

program may be slightly larger
Most

TMF

employed in their local areas, in a local neighborhood guard function or manning checkpoints; non-TMF tribal forces' roles can vary from similar local duties to active combat or manning the frontlines

Ninewa Guards aka National Mobilization Forces (al-Hashd al-Watani)
Formed: July 2014
Active: Yes
Strength: approx. 3,000
Leader: Atheel al-Nujaifi
Link to political party: al-Muttahidun
Founded by Atheel al-Nujaifi, the then-governor of Ninewa
Reportedly drawn from former Iraqi police units from Mosul and local volunteers
Predominantly Sunni but also includes Kurds and other minorities from Ninewa
Significant training base in Zilkan in Sheikhan,

42

and operational base on the northern outskirts of Mosul
Received training from Turkish forces,

43

and reportedly receives some salary and equipment although this is denied by both Turkey and al-Nujaifi
Better trained, equipped, and organized forces are more active in frontline activities and more challenging operational tasks than most other Sunni forces
Formerly considered illegal by some groups, but the forces have since merged under the

PMF

umbrella


Local or Minority Forces within the Popular Mobilization Forces
A number of minority groups have set up their own forces under the Popular Mobilization Forces. Some fall under the general PMF command, others have integrated into one of the larger, Iranian-affiliated PMF forces, such as Badr.

Turkmen Brigades
16

and

52

Formed: 2014

Active: Yes

Strength: Over 3,000

Leader: Yilmaz an-Najjar (and variety of local commanders)

Link to political party: various (Badr is strongest)
A range of Shi'a Turkmen forces active in the southern parts of Kirkuk governorate and Tuz district (in Salah ad-Din governorate); headquarters in Tuz Khurmatu, the center of Tuz district
Brigade

52

is exclusively Badr; Brigade

16

includes a range of Turkmen proxies of Shi'a Arab

PMF

(Hezbollah Brigades, Peace Brigades, League of the Righteous, etc)
Local commanders have great autonomy but ultimately report to Hadi al-Amiri (Badr) and

PMF

operations commander Abu Mahdi al-Muhandis (Hezbollah Brigades)
Turkmen

PMF

have led many of the significant human rights abuses while holding territory or engaging in operations with Shi'a

PMF

including summary executions, kidnapping, arbitrary detention, torture, looting, mass destruction of houses; for example, in Tuz;

44

harassment, abuse, and destruction of the property of Arab residents, as well as blocked return of Sunni Arab residents in Tuz and Kirkuk

Shabak Forces (including Babylon Brigade)
Formed: November 23, 201445
Active: Yes
Strength: 1,000
Leader: Hunain Qaddo
Link to political party: linked to Badr Organization
Comprised mostly of Shi'a Shabak with substantial numbers drawn from Ninewa Plains area, and Shi'a Arabs

46

Operating across the Ninewa Plains and in Mosul, including controlling many checkpoints and areas from Bartella leading into Mosul
Units have also been involved in military operations in Nimrud and Qayarra
Babylon Brigades (under Christian leader Rayan al-Kildani) gaining reputation for revenge attacks and abuses against Sunnis in their area of operations, prompting rejection by many other Christian groups and leaders

HRW

reported that Shabak forces were involved in extrajudicial arrests of Sunni residents in areas near Mosul

47

Ninewa Plains Protection Unit (
NPU

)

Formed: 1980s (with different name)

Active: Yes

Strength: approx. 3,000 forces as of February 201548

Leaders: Gen. Behnam
Pro-Baghdad Christian militia
Armed wing of pro-Baghdad Assyrian Democratic Movement (one of the two largest Iraqi Christian parties)
Primarily a self-defense, rather than an offensive force
Only Christian militia with members who have received some US-led Tribal Mobilization Force (

TMF

) training
Currently holding the southern Ninewa Plains, notably in Qaraqosh

Protection Force of Ezidxan (Hêzen Parastina Êzîdxanê,
HPE

)

Formed: 2015

Active: Yes

Strength: 2,500 trained fighters (approx. 8,000 associated with the group)

Leader: Haider Shesho
Yazidi forces with frequently changing allegiances, most recently paid by Baghdad as part of

PMF

Active in Sinjar, mainly in the northern portions as of June

2016

47

military base near Sherefedin
Formerly known as Sinjar Protection Forces (Hêzen Parastina Shingal,

HPS

)