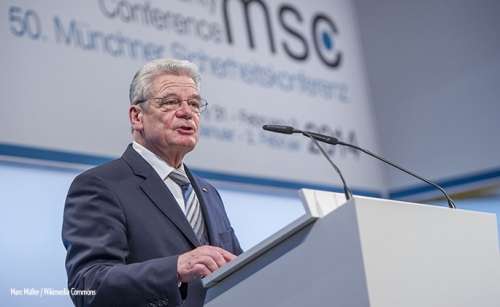 Source: Marc Müller / Wikimedia Commons

Am Wochenende beginnt die Münchner Sicherheitskonferenz und markiert ein Jahr der Debatte über Deutschlands internationale Verantwortung. Auch wer nicht handelt, trägt Verantwortung, so Bundespräsident Gauck. Es müsse selbstverständlich sein, unsere Hilfe nicht einfach zu versagen, wenn Völkermord, Kriegsverbrechen, ethnische Säuberungen oder Verbrechen gegen die Menschlichkeit drohen. Gaucks Rede folgten bedächtige Worte des Außenministers und forsche Ankündigungen der Verteidigungsministerin, die binnen Stunden die Teilnahme deutscher Soldaten an einem EU-Einsatz zur Verhinderung des drohenden Völkermordes in der Zentralafrikanischen Republik in den Raum stellte. Reflexhaft war die Debatte wieder dort, wo sie regelmäßig steckenbleibt: im Streit über den Einsatz militärischer Gewalt.
...
To read the rest of this piece, please visit Frankfurter Rundschau online.
A full English version is also available.